The 180-degree-shaped Dome w Bed
MPS Sunbeam emits far-infrared radiant heat thru the entire body soothing it. Targeted far-infrared heat from the capsule warms the body while every body part increases with the energy. As the far infrared penetrates deep in to the body, 3 natural reactions happen with far reaching health benefits. The head is outside the capsule.

As the body's temperature rises, the body then perspires to keep the body from over heating releasing toxins & waste. This energy goes deep in to the fat tissue releasing toxins excreted thru sweat & bowels.

BENEFITS: Eliminate fats, chemicals, and toxins from the body. Promotes the killing of pathogenic (disease causing) bacteria, viruses, fungi and parasites.
MPS RHACE PRODUCT SPECIFICATION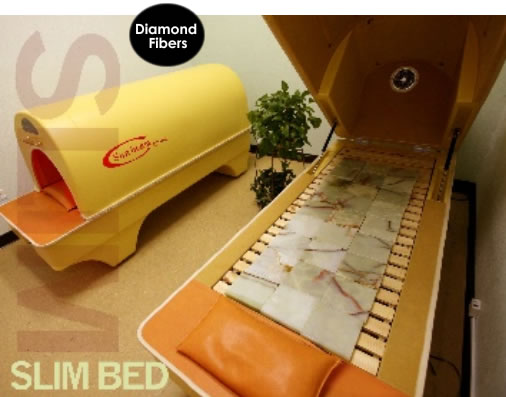 Panels Active Carbon Fibers™
4.5 Panel
Bamboo bed w Dome
Dimensions
84" L x X 32" W x 42" H
Box Dimension
Read actual email submissions from other very satisfied customers.

"Emma's Story - Written by Martina Dinsmore (Emma's Mother)

" On September 16, 2004, Hurricane Ivan hit Pensacola, Florida. The category 3 hurricane severely damaged our newly built home on Perdido Key, along with our vehicles, furniture, clothing, toys...Ivan destroyed 95% of our possessions, yet my family and I remained thankful for our lives, each other, and our jobs. Two weeks later, on September 30, 2004, at 8:00 a.m., I took my daughter and son to their grandparent's house and returned to work as a telebanker for AmSouth Bank..." Read Full Testimonial...