Celebrating 16yrs producing, Optimum Energetics Systems™ detox footbath units, one of the longest manufacturers, USA made (former models Focus Standard Universal ES1500, Focus Professional ES8000, Focus Dual ES9000) w a 3 yr warranty. The Optimum Detox footbath™ is a bi-product of over 16 yrs of research, development & manufacturing.

The Family of OPTIMUM Detox footbath™ units are the latest in ionic detox foot bath technology & the most powerful/safest machines. The OPTIMUM ionic footbath™ creates an ionization osmosis environment running negative oxygen ions through your body pulling & attracting the positively charged impurities, heavy metals, etc out through the feet in to the saline charged solution in the bath. The energized ionized water runs through your body bringing the body's chi & meridians back in to balance where one might feel energized & relaxed. Impurities are pulled from the body, improving the body's natural resilience. There is a noticeable change in the water color during the session where you are actually seeing cellular waste & oxidation present in the water. The energy fields are stronger, strengthening the body's immune system. You will feel revitalized, lighter feeling, balanced, clarity, healthy & ready to enjoy life! This system is easy enough for a home user to use as well as a practitioner... no formal training is necessary.
Made in USA
OPTIMUM™ HOME ES1550i (home use, 3.0 Amps!)
OPTIMUM™ PROFESSIONAL ES8000i (professional use, 5.5 Amps!)
OPTIMUM™ DUAL PROFESSIONAL ES9800i (professional use, 5.5 Amps!)
Comparisons & Reviews - OPTIMUM vs Other Ioncleanse Foot Spas
Compare w AquaDetox, Aquachi/Aqua Chi, AMD Ioncleanse, EB-305/EBPro, BBS - Body Balance System, BioCleanse, IONSpa, BEFEU, other Ion Cleansing units etc.
** Don't see a detox footbath machine listed Contact us for more comparisons & reviews.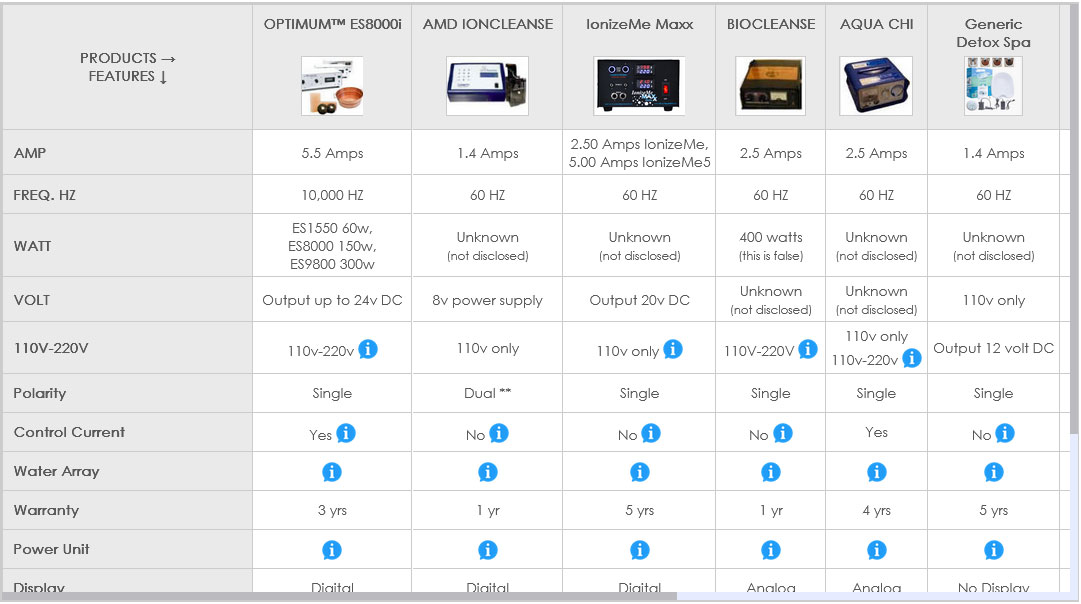 Click on image to view comparisons
Read actual Testimonials from some of our very satisfied customers.
Amazing Health Results
As a practitioner for over three years, I have some amazing health results from footbaths. Some of the most dramatic have been lumps that have completely disappeared after usually one footbath.

I have treated three Vietnam veterans with agent orange in their legs and feet - After taking several footbaths, the itching, burning, and stinging, as well as the discoloration in the skin in these areas were all dramatically reduced and all were returned to being comfortable once again. One man had acetone poisoning. He had been seriously ill for six years. After two and a half months of weekly footbaths, he was completely restored to his former health. In one woman's footbath, the removal of heavy metals was so extreme that the substance coming from her body through her feet was black and gritty -she had been an airline stewardess for many years. "..."Toxicity is a major health concern in our present polluted society. We must have a method to detoxify the body - The energetic footbath is in my opinion the most effective way to address this serious problem.
I'm Very Healthy
I have been using the footbath since 2000, and some results have been increased energy. My complexion is very clear and the whites of my eyes are white. I'm very healthy. People notice something different about me and want whatever it is. My joints no longer feel stiff, and I just feel an all over renewal.
Found the Fountain of Youth
I've found a machine that really helps diabetes. It is the footbath machine. It is new to the United States. It cleans the poisons and toxins out of your system. I got one because I've been a hairdresser all of my life and my body was extremely toxic. What I didn't realize was how much it would help my husband who is diabetic. He had no feeling in the bottoms of his feet for 3 ~ years. After three treatments the feeling came back. When his legs were swollen it took the swelling and pain out of his legs and ankle. He lost seven pounds after that treatment over a two day period. After continued use of the footbath machine his breathing got better. His lung capacity was 40% and now it is 79% Also, he had no trouble with his heart when he had his hernia surgery. Normally, he would end up in the ICU unit whenever he had any surgical procedure. I feel like I have found the fountain of youth. The best of health to all of you. Thank you.
Impressed with the Results
On the first visit it looked like my feet were in a tub of transmission fluid when I finished the footbath. I've had severe swelling and pain in my right elbow, bursal sack. It was crystallizing. After the first treatment, the swelling kept going down and just two days later back to normal. I have more energy and don't seem to need naps during the day. Very impressed with the results!
DISCLAIMER:

"Any statements & information on this website are for informational & research purposes only. They are not intended for diagnosing or treatment for any type of health ailments and/or medical conditions. Responsibility is the sole responsibility of the reader and is not for application of any therapeutic approaches."

All information is for educational & general purposes only. The FDA government agency has not evaluated or approved this technology, and it not meant to cure, treat, prevent disease, prescribe, or be used for diagnosis.
PRECAUTIONS:
Caution:
Do Not Use
with an electronic device or pacemaker
Do Not Use
if nursing or pregnant
Do Not Use
if person has an organ transplant
ALWAYS consult your medical doctor about your health conditions
WARRANTY:
All of our products are manufactured & serviced here in the United States.
• 3 yr Limited Warranty on the power unit when used in instructed fashion** - Should you experience a problem with your OPTIMUM™ unit during the warranty period that is due to a manufacturer's defect, a return authorization code will be assigned (refer to policy document for details), properly packed, and insured. Shipping to us is paid for by customer and we cover parts/labor & return shipping within the US (outside of US customer pays) during the 3 yr warranty period. If the warranty period has expired then the customer pays for all shipping costs, parts & labor. It is rare when someone has to have a unit repaired and we still have customers using our original units over 16 yrs ago.

• 30 day Limited Warranty on the Optimizer/Exciter Water module for manufacturing defects

**Must complete registration form on OPTIMUM unit to be eligible for all Warranties (Registration consists of Model number, Serial number, Name, address, phone, email address & date of purchase)
RETURN POLICY:
• A OPTIMUM unit (not been used) may be returned within 14 days from the sales receipt date and receive a refund minus cc fees & shipping/handling.
• A OPTIMUM unit (used) may be returned within these 14 days from the sales receipt date and receive a refund minus a 10% restock fee & shipping/handling.
• Canceled Orders: If an order has been canceled before it ships a refund will be issued minus cc fees.
• NOT RETURNABLE: Used copper tubs, salt, certification training manual or additional used Optimizers/plates are not refundable.
LIFETIME CUSTOMER SERVICE & SUPPORT:
• We provide unlimited phone support, advice & material for both home & business use. If you need advice to get your business going with the OPTIMUM FOCUS Energetic System we are here to help.
• We do offer certification workshops for both the practitioner & distributor.