Ultimate Portable FIR Therapy Solution
The MPS HEATING PAD is your localized personal far-infrared heat therapy that can be placed on specifc body part treating the problem area. You can take it anywhere. Enjoy the powerful MPS carbon fiber far-infrared therapy anytime, anywhere.

MPS technology is light years ahead on carbon cyrsal fiber far-infrared technology. Localized far-infrared treatment is very important and effective for treating a specific body area. Since perspiring is not necessary for localized treatment then treatment time can be extended allowing the far-infrared to really treat the problem area.

Unlike other heating pads that emit heat via electronic wires, the MPS Heating Pad has the powerful MPS Active Carbon Fibers™ FIR emitter. MPS technology is light years ahead on carbon crystal fiber far-infrared technology.
MPS MAT - PRODUCT SPECIFICATION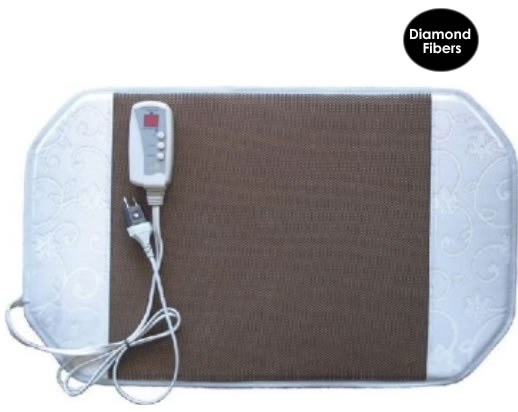 Panels Active Carbon Fibers™
1/2 Panel
Dimensions
17.0" L x 27.5" W x
1/2" THICK
Read actual email submissions from other very satisfied customers.

"Emma's Story - Written by Martina Dinsmore (Emma's Mother)

" On September 16, 2004, Hurricane Ivan hit Pensacola, Florida. The category 3 hurricane severely damaged our newly built home on Perdido Key, along with our vehicles, furniture, clothing, toys...Ivan destroyed 95% of our possessions, yet my family and I remained thankful for our lives, each other, and our jobs. Two weeks later, on September 30, 2004, at 8:00 a.m., I took my daughter and son to their grandparent's house and returned to work as a telebanker for AmSouth Bank..." Read Full Testimonial...