Workout in sauna, burn fat!!
Lose weight fast while working out in a FIR sauna. Burn more than double the calories you would normally. The MPS RHACE (Radiant Heat Aided Cardio Exercise) is made to be comfortable and effortless for the perfect weight loss program.

MPS FIR RHACE is a revolutionary weight loss program generating a lot of perspiration using the most sophisticated radiant heat technology called the Active Carbon Fibers™. This FIR technology creates a rapid warming up of the body, however it doesn't cause difficulty in breathing when exercising. The FIR energy is a pleasant comfortable warmth that boosts the body's energy enhancing the workout increasing weight reduction. Active Carbon Fibers™ is the only FIR heat technology that can be used along with exercise.
• Minimizes workout time.
• Increases Energy.
• Reduces lactic acid build-up.
• Reduces muscle spasm.
• Maximizes Burns fat
MPS RHACE PRODUCT SPECIFICATION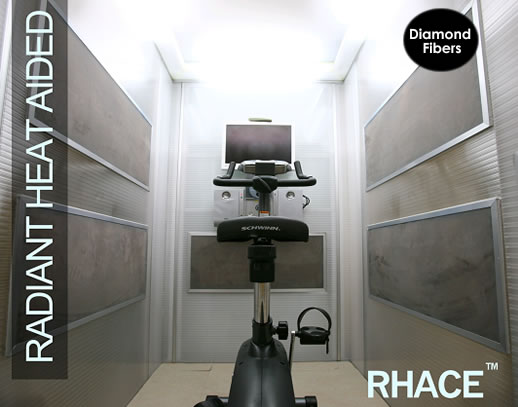 Panels Active Carbon Fibers™
5 Panel
NEW RHACE is now made w Ecofriendly Natural wood and oils with full Glass door
Dimensions
48" W x 67" D x 86" H
Box Dimension
4 x 5.7 x 7.5 (inches)
Gross weight
620 lbs
Net Weight
600 lbs. in box
AMP/Watts
20A /2400 W
** Cardio equipment
not included
Read actual email submissions from other very satisfied customers.

"Emma's Story - Written by Martina Dinsmore (Emma's Mother)

" On September 16, 2004, Hurricane Ivan hit Pensacola, Florida. The category 3 hurricane severely damaged our newly built home on Perdido Key, along with our vehicles, furniture, clothing, toys...Ivan destroyed 95% of our possessions, yet my family and I remained thankful for our lives, each other, and our jobs. Two weeks later, on September 30, 2004, at 8:00 a.m., I took my daughter and son to their grandparent's house and returned to work as a telebanker for AmSouth Bank..." Read Full Testimonial...